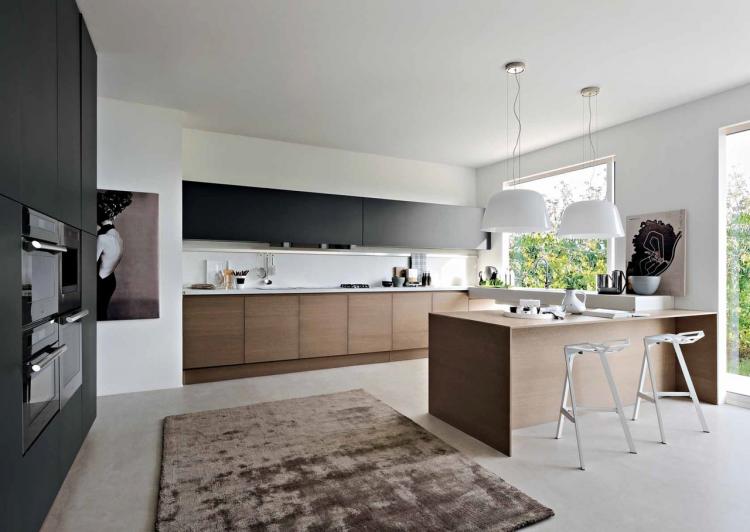 Black and white kitchen ideas are still going to be the trend in 2020. But, how can we embrace the black and white concept without making it feels boring and cold? In this article, we have several tips you can follow to create an inviting black and white kitchen in your home.
Besides, your kitchen will be a focal point in your home by trying this style. So, you need to start with the cabinetry. It is important to pick the right one. Also, the easiest scenario for black and white kitchens is deciding on black cabinetries on white walls.
Besides, black countertops would add a dramatic effect as well. For example, a black linoleum cabinet would look trendy and have a personality when you pair it with white subway tiles for its backsplash.
Talking about backsplashes, some designers have tried to use tone on tone style. Imagine countertops, cabinets, and backsplash are in the same tone and shade. Adding a black sink with a metal-finished faucet will create a cool effect in the kitchen. Feel free to add some dark accents in black and white kitchen ideas because this is how you create the drama.
Details are not made to be left out and this rule applies to kitchen designs as well. For your information, the black and white color scheme in the kitchen could make a bigger impression in space.
However, you should use strategy and consideration when it comes to applying the color. If you want to make a taller room impression, you can paint the lower cabinets with black while allowing the upper parts in white. Make sure you have accents so it would not look uninviting. Allowing natural light in the kitchen will give a nice touch in the room as well. Black and white kitchen ideas always love patterns to spice up the room.
image source: pinterest.com